Fresh from a party, a teen posts a photo on Facebook of a friend drinking a beer. A college student repurposes an article from Wikipedia for a paper. A group of players in a multiplayer online game routinely cheat new players by selling them worthless virtual accessories for high prices. How do youth, and the adults in their lives, think about the moral and ethical dimensions of their participation in online communities?
In this talk Carrie James — Lecturer on Education at the Harvard Graduate School of Education and author of "Disconnected: Youth, New Media, and the Ethics Gap" — explores how young people approach questionable situations online as well as more dramatic ethical dilemmas that arise in digital contexts.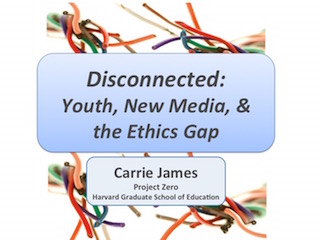 Also in ogg for download
More info on this event here.