While serving as the de facto standard for secure web browsing, in many ways the security of HTTPS is broken. In the long term, a robust technical and policy overhaul must address the systemic weaknesses of HTTPS.
Nico van Eijk —Professor of Media and Telecommunications Law and Director of the Institute for Information Law — and Axel Arnbak — a Ph.D. candidate at the Institute for Information Law — discuss policy methods for strengthening the security of HTTPS, using specific examples from Europe and around the world.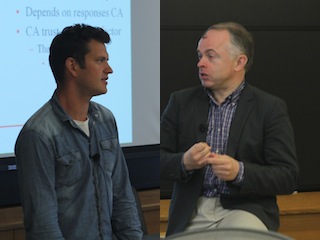 Also in ogg for download
More info on this event here.