Today we feel the impact of technology everywhere except in our paychecks. In the past, technological advancements dramatically increased wages, but during the last three decades, the median wage has remained stagnant. Machines have taken over much of the work of humans, destroying old jobs while increasing profits for business owners.
In this talk, James Bessen — Lecturer in Law at the Boston University School of Law and author of the new book "Learning by Doing: The Real Connection Between Innovation, Wages, and Wealth" — argues that workers can benefit by acquiring the knowledge and skills necessary to implement rapidly evolving technologies and sharing knowledge. Bessen is joined in conversation by Berkman Faculty Associate Karim Lakhani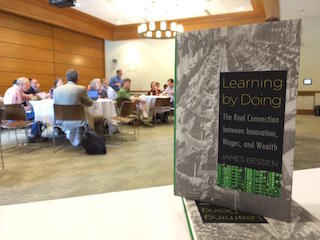 Also in ogg for download
More info on this event here.