What does it mean to be a member of a public radio station in the United States? What could it mean? How could expanding the definition of membership instill a sense of ownership and identity among listeners, allowing them to feel more connected and invested in the work we do?
In this talk Melody Kramer — a 2014-2015 Visiting Nieman Fellow at Harvard University and Peabody award-winning public media producer, strategist, and developer — discusses a framework for a new model of public media membership that doesn't just depend on financial pledges, but donations of skills or time.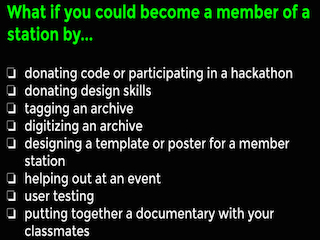 Also in ogg for download
More info on this event here.